Welcome to Mercury Galerie Fine Art
in San Francisco
Showing the finest avant-garde artists today
The Critics of the art world are talking about Bar's work…
"This is art that is too strong for the sofa" 
"Bar is a rare gift to the art universe
that is only appreciated by the deeply mature and experienced collector –
and the wise child"
"Her pictures are some of the
most provocative statements on
our current time. Simple. Primordial".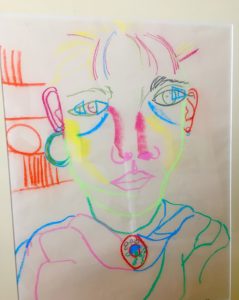 Bar Lyn Shapray speaks French, German, Spanish, and a little Russian as well as a bit of Tongan. She is one of those artists who has expression with the deepest part of the human identity.
When her oil on canvas work is shown there is sure to be an excited art world. Her shows have sold out. Her art is in the private collections of some of the world's most interesting people.
Bar graduated from Vassar College in Poughkeepsie, New York.
Her expressionistic work has been collected by celebrites such as Otis Redding's manager Phil Walden founder Capricorn Records. Growing up in a culture of fine art collectors and museum contributors, Bar has had the privilege of being part of a group of art scholars and collectors including mentors such as Ayala Zacks, that were friends with some important artists in the 20th Century. It is an opportunity that every fine art student should have.
In addition to knowing important painters, sculptors and critics, a major newspaper article was written about her being a friend of Salvador Dali. The fashion designer Valentino envisioned her as Roman. Her friend Alexander MacIntosh, Q.C. of Blake Cassels fame encouraged her. Her grandfather Dr. Samuel Lavine, who delivered many babies in Toronto, was her earliest mentor. Dr. Samuel Lavine M.D. – A Toronto Historical First
Her prominent uncle Canadian Army Major Leon de Hirsch Levinson, esteemed Montreal Gazette courts reporter, is also the founder of the McGill University Leon Levinson Scholarship : "The Leon Levinson Award that is awarded annually to a deserving member of the communications media, a journalist or broadcaster."
She was early on influenced by masters in the permanent contemporary collection of the Museum of Modern Art. Charles Saatchi is one of her favorite art critics. She grew up in the Western culture of "unprecedented growth and struggle" with emerging technology's impact on everyone's course in life; although her work is more personal. Her new book showing her Art, displays her work in the exciting dawn of the 21st Century Space Age in our lives. She was raised as a British subject and is a fan of The Queen. Her work syncs magnificently with classical French architecture and forward Space Age architectural designs. She loves I.M. Pei's Glass Pyramid in The Louvre and the influential woman architect Julia Morgan's buildings. Bar surrounds herself with the art history of Europe and also has lived in a beautiful Space Age home designed by her architect relative.
As she was invited to be a Toronto debutante, Bar was friends with German Consul Gottfreid Waldheim and his wife Marie (neé Springer) in Canada, and she regularly made art travels to New York and wrote a scholarly paper on the German Old Master Albrecht Dürer. Bar was influenced by her friend the Manhattan and Zurich art dealer André Emmerich who as a gallerist was very involved with the most important color-field artists of the 20th Century. http://galleristny.com/2012/08/archives-of-american-art-completes-cataloguing-of-andre-emmerich-gallery-records/ Bar's many relatives in The Arts include the painter Lillyan Shapray, Parsons graduate, of Russian descent, whose iconic work of a Russian peasant woman inspired by Shostakovich's Seventh Leningrad Symphony and Carl Sandberg's tribute to the besieged symphony, was given as a gift from The Royal Canadian Air Force to the Russian Ambassador Hon. Monsieur Feodor Tarasovitch Gousev when they were allies in WWII during the historical turning point in North Africa of The Allies battle against The Axis http://news.google.com/newspapers?nid=2194&dat=19430224&id=e_0tAAAAIBAJ&sjid=8NsFAAAAIBAJ&pg=5792,4024492   http://news.google.com/newspapers?nid=2194&dat=19430224&id=e_0tAAAAIBAJ&sjid=8NsFAAAAIBAJ&pg=4137,3988110 , *  . The famed Mid-Century Modern furniture designer Vladimir Kagan is her relative. https://www.nytimes.com/2016/04/13/arts/design/vladimir-kagan-designer-of-modern-furniture-with-curves-and-sex-appeal-dies-at-88.html Bar supports Arts And Orchestra Education and the good work caring for our world's Natural Resources.
New Documentary Film in Production 2019 about Bar's work!
Bar…
Bar has had to overcome tremendous challenges, and believes in Vassar's pioneering history of programs boosting girls' and young women's self-esteem as they mature. 
"one of the most impressive things that professors taught to the students at Vassar, was that anyone with fidelity and constancy as well as seeking balance in a positive approach to all problems, they can overcome their challenges, whether diabetes or dyslexia. My art professor Linda Nochlin was enthusiastic about empowering the self-esteem of young women in the struggle against stereotypes. The Vassar values go all the way back to founder Matthew Vassar and his desire to boost the self-esteem of young women with the first real college for women."

"the first time I met Dali in New York, I was a student at Vassar, and classes had ended on Friday. Saturday I went away from school for the weekend into New York. It was the post war decades and creativity was in the air from the artists' colony of New York and the surrounding states. He crossed the room and came and spoke to me and I was so nervous and he was so funny! And we became friends."
"At Vassar I was immersed in French literature and culture with some of the most fascinating scholars in French culture of the 18th century. Bringing your talents to fruition is what Voltaire meant when he said "Il faut cultiver notre jardin". Thomas Jefferson, Ambassador to France in Paris, played the violin everyday in the post Baroque, classical era of European music. Jefferson's cousin, Chief Justice John Marshall of the Supreme Court, was appointed Envoy to France, and as the two of them were politically at odds, they shared a passion for French culture that united them".
"When I was a pre-teen and teen girl, Ayala Zacks was a wonderful mentor. Frequently at her house she entertained our family and friends. When she showed me the wonderous Chagall painting "Over Vitebsk" on her wall, it meant so much to me as an art student that she shared her intimate feelings about the great artist."


By Appointment
email Mercury Galerie EMAIL: art@mercurygalerie.com